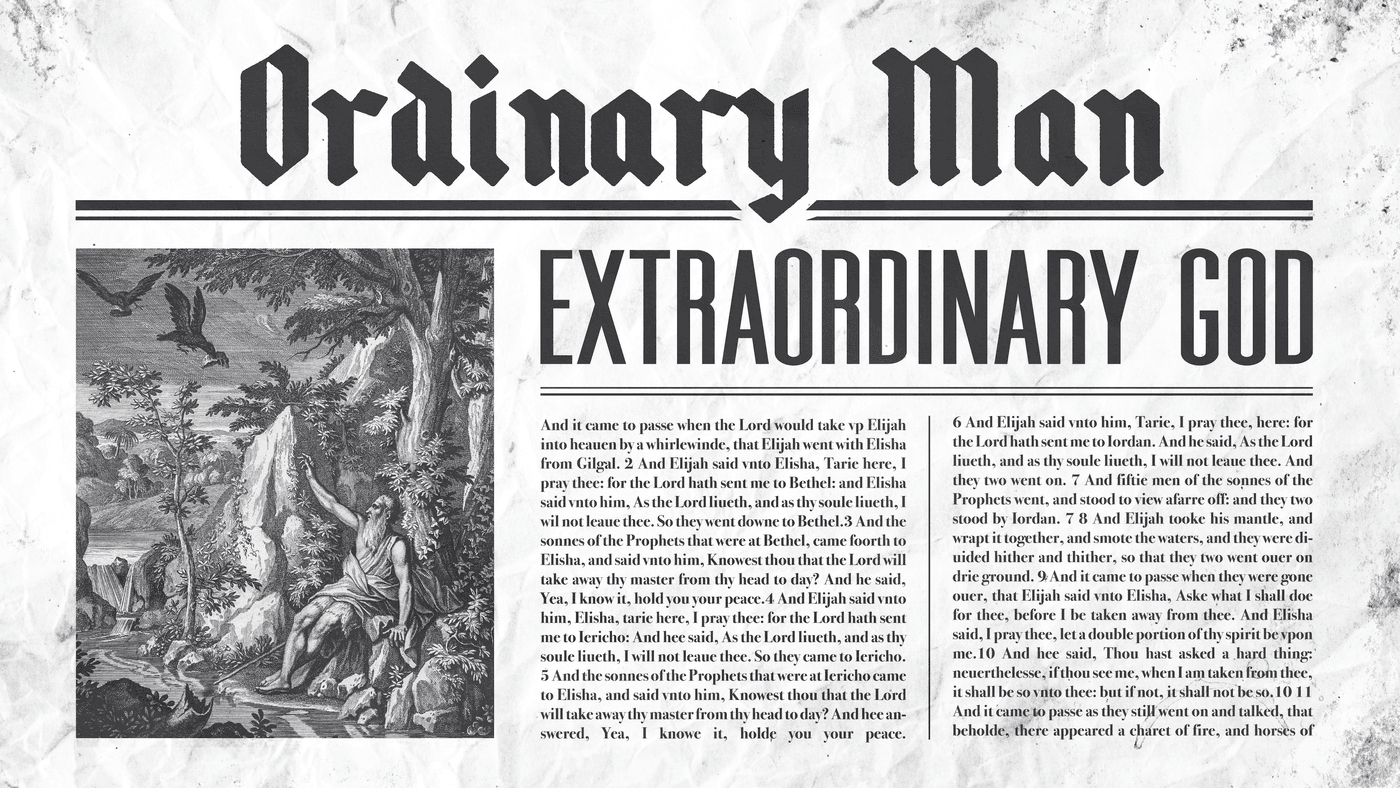 John 8:12
Again Jesus spoke to them, saying, "I am the light of the world. Whoever follows me will not walk in darkness, but will have the light of life."
Ephesians 5:8
For at one time you were darkness, but now you are light in the Lord. Walk as children of light.
Dark Days in Israel
1 Kings 18:1-16
After many days the word of the Lord came to Elijah, in the third year, saying, "Go, show yourself to Ahab, and I will send rain upon the earth." 2 So Elijah went to show himself to Ahab. Now the famine was severe in Samaria.
3 And Ahab called Obadiah, who was over the household. (Now Obadiah feared the Lord greatly, 4 and when Jezebel cut off the prophets of the Lord, Obadiah took a hundred prophets and hid them by fifties in a cave and fed them with bread and water.) 5 And Ahab said to Obadiah, "Go through the land to all the springs of water and to all the valleys. Perhaps we may find grass and save the horses and mules alive, and not lose some of the animals." 6 So they divided the land between them to pass through it. Ahab went in one direction by himself, and Obadiah went in another direction by himself.
7 And as Obadiah was on the way, behold, Elijah met him. And Obadiah recognized him and fell on his face and said, "Is it you, my lord Elijah?"
8 And he answered him, "It is I. Go, tell your lord, 'Behold, Elijah is here.'" 9 And he said, "How have I sinned, that you would give your servant into the hand of Ahab, to kill me? 10 As the Lord your God lives, there is no nation or kingdom where my lord has not sent to seek you. And when they would say, 'He is not here,' he would take an oath of the kingdom or nation, that they had not found you. 11 And now you say, 'Go, tell your lord, "Behold, Elijah is here."' 12 And as soon as I have gone from you, the Spirit of the Lord will carry you I know not where. And so, when I come and tell Ahab and he cannot find you, he will kill me, although I your servant have feared the Lord from my youth. 13 Has it not been told my lord what I did when Jezebel killed the prophets of the Lord, how I hid a hundred men of the Lord's prophets by fifties in a cave and fed them with bread and water? 14 And now you say, 'Go, tell your lord, "Behold, Elijah is here"'; and he will kill me."
15 And Elijah said, "As the Lord of hosts lives, before whom I stand, I will surely show myself to him today." 16 So Obadiah went to meet Ahab, and told him. And Ahab went to meet Elijah.
Instead of Being Overwhelmed by Darkness, See it as an Opportunity to Shine the Light of Jesus.
Matthew 5:14-16
You are the light of the world. A city set on a hill cannot be hidden. 15 Nor do people light a lamp and put it under a basket, but on a stand, and it gives light to all in the house. 16 In the same way, let your light shine before others, so that they may see your good works and give glory to your Father who is in heaven.
YOU'RE NOT ALONE!
Ephesians 6:10-12
Finally, be strong in the Lord and in the strength of his might. 11 Put on the whole armor of God, that you may be able to stand against the schemes of the devil. 12 For we do not wrestle against flesh and blood, but against the rulers, against the authorities, against the cosmic powers over this present darkness, against the spiritual forces of evil in the heavenly places.
JESUS IS PRAYING FOR YOU!
John 17:15-18
I do not ask that you take them out of the world, but that you keep them from the evil one. 16 They are not of the world, just as I am not of the world. 17 Sanctify them in the truth; your word is truth. 18 As you sent me into the world, so I have sent them into the world.