What are Connect Groups for?
At 180° Church, our mission is to make disciples. Connect Groups are one piece of our process to help us accomplish that mission. We believe that we grow the most in our relationship with Jesus when we are in relationship with others.
Our Sunday Connect Groups are ongoing, and our Wednesday Connect Groups are six-week studies. Our hope for you is that being part of a Connect Group will help you build meaningful relationships and help you move forward in your journey with Jesus.
Childcare/Youth Ministry is provided for Wednesday Connect Groups for youth of all ages. On Sundays, childcare is available for ages birth through pre-k during the 9:00 Connect Group, and ages birth through 5th grade during the 10:30 Connect Group.
---
Wednesday Night Groups
Our current session Wednesday night Connect Groups will be go through February 12. Our newest session of Wednesday Connect Groups begins February 26 at 7:00 p.m.
Steve & Joyce Hale
Guardrails by andy stanley
Guardrails: a system designed to keep vehicles from straying into dangerous or off-limit areas
They're everywhere, but they don't really get much attention....until somebody hits one. And then, more often than not, it is a lifesaver.
Your friendships. Your finances. Your marriage. Maybe your greatest regret could have been avoided if you had established guardrails.
In this six-session video study, Andy Stanley challenges us to stop flirting with disaster and establish some personal guardrails.
Begins Wednesday, February 26, 7pm. The participants guide can be purchased HERE.
---
Brian & Melissa Lewis
love & respect by Dr. Emerson Eggerichs
This group, focusing on marriage, will meet for 12 weeks, ending on May 20.
Excited yet burdened about male and female relationships, Dr. Emerson Eggerichs and his wife Sarah launched the Love & Respect Conferences in 1999. Based on over three decades of counseling as well as scientific and biblical research, this conference has given hope and new life to thousands of marriages.
There will be three major questions asked and answered:
Why do we negatively react to each other in marriage? This will be explained in what is called the Crazy Cycle.
How do I best motivate my spouse? The Energizing Cycle answers this question.
What if my spouse does not respond to me? The Rewarded Cycle informs us what to do.
Begins Wednesday, February 26, 7pm. The cost for this study is $20/couple to cover materials.
---
Sean & Rebecca Ulrich
Teach us how to pray
In this series titled "Teach Us How to Pray," we will be dissecting the Lord's Prayer in Matthew 6:9-13. Each phrase from this prayer has divine direction that not only connects us with our Heavenly Father, but also allows the Holy Spirit to shape our hearts and minds to His will and image.
Through this study and discussion, we will learn that the Lord's Prayer can be understood as a pattern of how to pray. It gives us the fundamental components that can go into our prayer time as we converse with God. As we learn how to pray from Jesus' teaching, we see that He perfectly addresses all areas of life that must be developed in order to allow the Holy Spirit to mold and shape us into the men and women He created us to be.
---
Sunday Morning Groups
Both Sunday morning Connect Groups use D6 curriculum. The video below explains the idea behind D6. While D6 is designed to encourage family discipleship, it is for any adult that wants to grow in their relationship with Jesus and knowledge of the Bible, not just parents. For February, these group are doing a topical Bible study, The Stewardship of the Mind. For March the Bible study is Called to Faithfulness, a study in Jeremiah. For April these groups will study, from the book of Mark, The Risen King.
Eric & Lexi Crabtree (9AM)
Ken & Margaret Hampton (10:30AM)
---
Sunday Afternoon
Depression: Looking up from the Stubborn Darkness (1:00pm on 2nd & 4th Sunday)
Where is God in the struggle? Looking away from despair towards hope can feel risky. What if God doesn't come through for you? What if you don't feel instantly better? Instead of offering simple platitudes or unrealistic cure-all formulas, Edward T. Welch addresses the complex nature of Depression with compassion and insight, applying the rich treasures of the Christian gospel, and giving fresh hope to those who struggle. Depression can be a crippling mental health issue, but with faith in God new hope can be discovered and a path to becoming a healthy happy Christian again can be found.
This will be a book study looking at depression and anxiety and how it affects our daily lives as well as others who are walking through it with us. We will use the book, Depression: Looking up from the Stubborn Darkness, by Edward T. Welch as a guide. Please purchase a copy of the book. Kevin and Cindy Tyra will host this Connect Group at their home on the 2nd and 4th Sunday of each month. When you sign up, they will contact you with the beginning date and their address.
---
Ladies' Groups
Sonda Finley (Tuesday 5:30PM)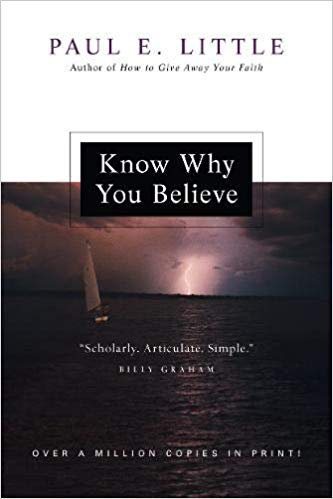 Have you ever wondered why you believe what you believe? Do miracles really happen? Do science and scripture conflict? Come join us beginning Tuesday, February 25, at 5:30 p.m. at 180° Church as we kick-off a new six-week study using the book, Know Why You Believe by Paul E. Little.
This Connect Group is for women only. Childcare will be provided. Please text Sonda at (931) 320-0492 for more information. You can purchase the book HERE.
---
Melissa Lewis & Rachael Mir (Friday 9:30 - 11:00AM)
This Connect Group is for women only. Childcare will be provided by participants in the Connect Group taking turns. This will be a book study looking at the enneagram (a personality system) using the book The Road Back to You by Ian Morgan Cron and Suzanne Stabile as a guide. Please purchase a copy of the book and bring to the first week.
This Connect Group will begin Friday, January 10, 2020. Purchase The Road Back to You on Amazon here.
---
Sign up today!